Saint-Andrew's United Church
Saint Andrew's United Church, Halifax, NS, was formed from Methodist and Presbyterian Churches at the time of the birth of the United Church of Canada in 1925. The present building, constructed of gray granite and built along modified gothic lines, was completed and dedicated in 1927. The attractiveness of the sanctuary is enhanced by the beautiful stained-glass memorial windows. Located at a major crossroad in downtown Halifax, it draws its congregation mostly from the South End of the city, but people attend from throughout metro and environs. About 400 families are within its pastoral care. It is an active, diverse congregation of all ages. Its life is focused on Sunday worship and it has an extensive community outreach program.
In 2011, Saint Andrew's celebrated a 'Greening Sunday' and covenanted with God and each other to be a Green Church. The Green Covenant asks us "to care for our neighbors, ourselves and all of Creation by: integrating the love of Creation in our worship and spiritual lives, increasing environmental awareness and education, practicing stewardship by conservation of natural resources, and working with others for environmental justice. As a congregation and as individuals, we will make every effort possible to reduce our carbon and ecological footprint. We will lead by example and ask those who use our building to partner in this covenant."
Saint Andrew's has already been practicing this covenant for the past several years by:
including climate change and other ecological concerns in worship and celebrating 'The Season of Creation' in worship and education for all ages,
partnering with Shambhala to co-sponsor 'Sacred Earth Awake' film series,
having a professional energy audit on our building,
converting from oil heat to natural gas, and
changing the lighting to CFC or LED lights,
using and promoting Fair Trade coffee and other products,
organizing climate justice events and supporting First Nations communities as they raise awareness about the effects of the Alberta oil sands on their lives.
We are continuing to invite members, groups – especially youth, staff and neighbors to share suggestions and to act together to more fully integrate our care of Creation in all that we do. In 2012, among other things, we plan to:
make every effort to save heat and paper,
include 'Green Tips' in the weekly bulletin,
increase the number of recycle bins,
use environmentally friendly cleaning products,
designate 'idle free' areas,
install bike racks,
collect/recycle ink cartridges,
search for a biodegradable alternative to Styrofoam (for the Sunday Supper for the homeless),
explore the possibilities of a community garden and/or fruit tree planting on church property, and
advocate to stop the destructive impacts of the Alberta tar sands and work for a provincial moratorium on Hydraulic Fracturing.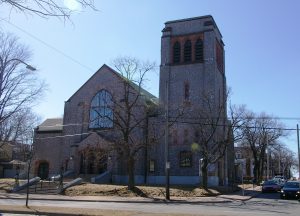 St.Andrew's United Church
6036 coburg Road
Halifax, Ns
B3h 1Y9
E-mail: saintandrews@eastlink.ca
Telephone: +1-902-422-3157