Models of Faith in God;
Models of Love for Creation
Saints and witnesses', from various churches, faith in Jesus Christ leads us to love our neighbour, to care for the poor and the sick. Faith also inspires us to give thanks to God and praise him for the splendour of his Creation. The following models of faith are of men and women with hearts open to God, to neighbours and to all of Creation.
They are listed here in chronological order. Notice how they come from different eras, different countries and different Christian denominations, yet the same Spirit enabled them to become stewards of Creation.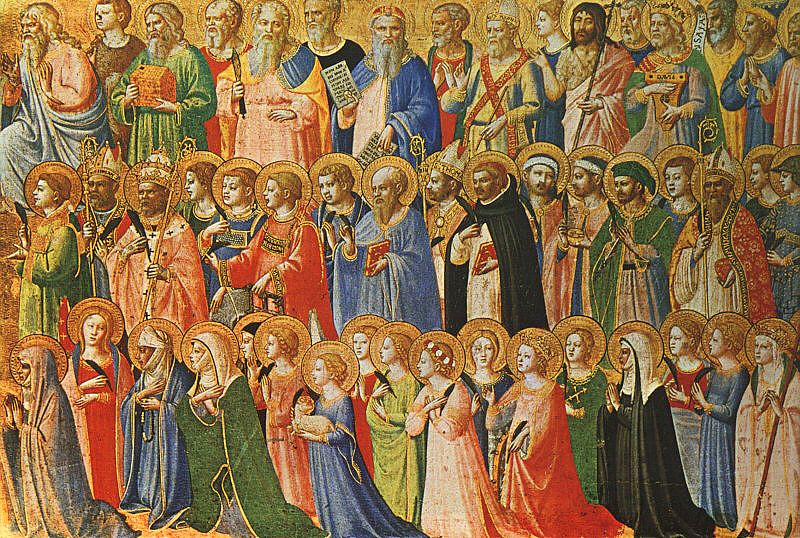 Blaise de Sebastea
February 11  (Orthodox Church)
February 3  (Catholic Church)
A skillful physician and a vitruous Christian, Blaise was appointed Bishop of Sebastea at a young age. During the persecutions, Blaise received divine direction to withdraw to a cave in the mountains which was usually frequented by wild animals. He was comfortable with these animals, even healing them of wounds or sickness. In fact, the wild animals sought him out. Hunters appointed to find wild beasts for the amphitheatre, found Blaise sourrounded by lions, tigers, wolves and bears. Amazed, they nevertheless seized him and took him to Agricolaus.  During this journey, they encountered a poor woman whose pig was carried off by a wolf.  Blaise commanded the wolf to return the pig unhurt, and the wolf obeyed his order. Refusing to sacrifice animals in worship of pagan idols, he was beheaded in or about 316.
One Hundred Saints, Bulfinch Press
Kevin of Glendalough
June 3 (Catholic, Anglican, Orthodox Churches)
At the age of 7, he was praying on the first day of Lent with his hands held up. While his hands were stretched towards the sky, a blackbird came and layed her eggs in his hands. He remained motionless while the bird built its nest. He was careful not to move for the duration of Lent. The bird fed Kevin with berries and nuts. At the end of Lent, the chicks were hatched and flew away from the empty nest. His task over, Kevin went to church to celebrate Easter. When he became an adult, he spent 7 years as a hermit in a cave in the valley of Glendalough. He always prayed in nature, at the foot of a tree, or even atop of a rock in the lake. When he prayed for a long time in the river, an otter came to him with pieces of fish so he could keep up his strength. A great man of prayer, Kevin lived top be 120 years old.
Martyrology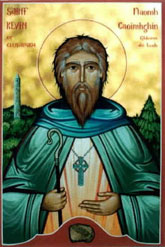 Mary of Egypt
April 1  (Orthodox and Oriental Churches)
April 2  (Catholic and Anglican Churches)
During a trip to Jerusalem, Mary of Egypt converted after a spiritual experience at the Holy Sepulchre and left her life of public prostitution. She had recently lived a life of prostitution. She heard a call: "If you cross the Jordan River, you will find true peace." She only brought three loaves of bread and afterwards she ate what she found in the desert. She lived as a hermit for the rest of her life. After her clothes wore out, she remained naked and she let her hair grow as sign of humility and communion with nature. At the end of her life, she walked on the waters of the Jordan and met amonk, Zosimus, to whom she recounted the story of her life. Two years later, Zosimus found her dead and a lion was helping to bury her.
Martyrology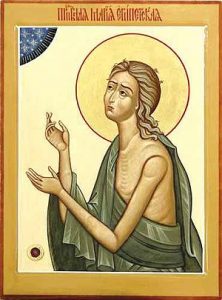 Hildegarde of Bingen
September 17  (Catholic, Anglican, Lutheran Churches)
She was a writer, composer, philosopher, Christian mystic, Benedictine abbess, visionary, and polymath. She founded two monasteries. She wrote many books including Physica, a text on the natural sciences, as well as Causae et Curae, a text on medecine. Hildegard of Bingen was well known for her knowledge of medecine involving practical application of tinctures, herbs, and precious stones. In both texts Hildegard describes the natural world around her, including the cosmos, animals, plants, stones, and minerals.
"God has arranged all things in the world in consideration of everything else." "Humankind, full of all creative possibilities, is God's work. Humankind alone is called to assist God. Humankind is called to co-create. With nature's help, humankind can set into creation all that is necessary and life-sustaining."
Francis of Assisi
October 4 (Catholic, Anglican and Oriental Churches)
He left the city and a comfortable life to live in nature, as poor as possible. He happily spent time with the poor and the sick, including lepers. One day he saw several species of birds feeding in a tree. He said: "The Creator must love you to give you all you need! Brother birds, do not be ungrateful and sing praises to Him who gives to you abundantly." Then he blessed then with a sign of the cross and they flew off, singing praises.
On another occasion, the village of Gubbio was terrorized by a wolf and Francis was asked to bring peace back to the village. When he saw that the wolf had been expelled from his pack, he asked the villagers to feed him. The wolf lived the rest of his days peacefully with the villagers.
Francis also wrote the Canticle of the Creatures.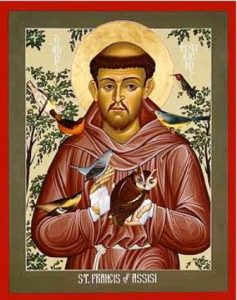 Martin Luther
February 18  (Lutheran Church)
October 31  (Anglican Church)
He was an Augustinian friar who nailed his 95 theses to the door of the church in Wittenberg; thus becoming the father of Protestantism and the reformer of the Church. He speakes of the Creation several times in his book Table Talk.
"In all things, in the least creatures, and their members, God's almighty power and wonderful works clearly shine…  What man can know how God creates and preserves all things, and makes them grow." LXIII (63)
"Whereas all creatures of God are good, and by God created only for good, though mankind makes them evil, by abusing them.." DCCXCIX (799)
Johann Gerhard
August 17   (Lutheran Church)
As a Lutheran theologian, he turned to the Church Fathers to rediscover the spiritual process of exegesis. His approach to faith is a constant balance between experimental, rational and contemplative.
"There are two books where we can learn to know God: the book of nature and the book of Scripture. We find in creatures the exterior book we need to read, study and meditate continually. The more creatures that are presented to us, the more teachers are proposed to us.
Schola Pietatis, 2:294-313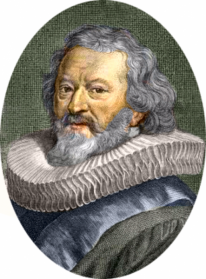 Kateri Tekakwitha
April 17 (Catholic Church)
She is called the Lily of the Iroquois. She left her village by canoe to reach missionaries south of Montreal and to live as a Christian. She liked being alone in the forest and spending time secretly with God. She had made a place of prayer near a stream by engraving a cross on a tree. It was there, among the trees and the silence of the forest that the Great Spirit spoke to her heart. All nature showed her who the Creator was and she felt at peace. Being in harmony with all Creation was an Aboriginal value she had learned from a young age. The cross was an important sign in her life, and she often lashed two branches together to form a cross. The example of Jesus who loved and who knew suffering gave her much comfort.
Saint Katerin Tekakwitha Conservation Centre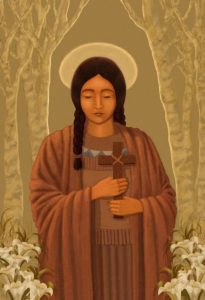 William Penn
July 30 (Lutheran Church and Quakers)
At the age of 22, he joined the Quakers in England and became close friends with the founder. Penn's religious views exiled him from English society. Penn proposed a mass emigration to New England. There, he founded an egalitarian colony in harmony with nature called Pennsylvania.
"It were happy if we studied Nature more in natural things; and acted according to Nature; whose rules are few, plain and most reasonable."
"Any good therefore I can show to any fellow creature, let me do it now. Let me not defer or neglect it, for I shall not pass this way again."
Some Fruits of Solitude, William Penn
(1644-1718)
United States of America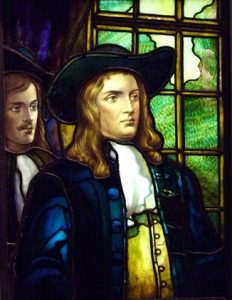 Jean-Frédéric Oberlin
June 2 (Lutherans and Protestants of Alsace)
He was the Protestant pastor of Ban-de-la-Roche in Alsace. He set himself to better the material and spiritual condition of this small disadvantaged village. At a wedding, he invited the couple to plant linden trees along a path (called the Wedding Alley). He encouraged the composting of waste, including for weavers. He forbade the animals to wander and graze in the woods, because grazing young trees prevented the renewal of the forest. He gave an award for energy savings. He encouraged several neighbours to share the common bread stove. Its action always took into account the economic, social and environmental dimensions; he understood sustainable development ahead of his time!
L'écodiaconie en paroisse, Otto Schaefer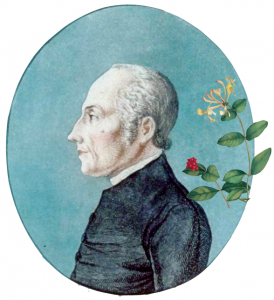 Séraphim de Sarov
July 19 (Russian Orthodox Church)
January 2 (Orthodox and Anglican Churches)
He began his monastic life at Sarov with such conviction that on the day of his profession of faith, he was given the name Seraphim, the "burning one". He obtained permission to retreat to the nearby forest for prayer and meditation on the Scriptures. In the forest, Seraphim befriended all sorts of wild animals, especially bears, who never harmed him. A sinful man carries the "smell of death" that excites fear or violence in animals, but he was transformed by his prayers and his asceticism. In a certain way, he returned to a state of paradise, the state of Adam which was in harmony with all creatures. After 37 years, he returned to the monastery. He was a man who radiated the joy of Easter.
Irina Goraïnoff, Éditions Desclée de Brouwer, 1995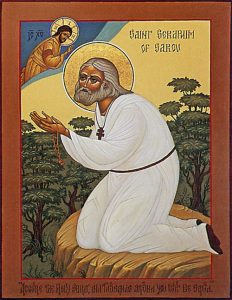 John Muir
April 21 (date of birth)
He was born in Scotland and his father was a Presbyterian preacher. The family moved to the United States where he helped establish Yosemite National Park and also founded the Sierra Club.
"The universe would be incomplete without man; but it would also be incomplete without the smallest transmicroscopic creature that dwells beyond our conceitful eyes and knowledge. From the dust of the earth, from the common elementary fund, the Creator has made Homo sapiens. From the same material, he has made every other creature, however noxious and insignificant to us. They are earth-born companions and our fellow mortals."A Thousand-Mile Walk to the Gulf (Sierra Club Books, 1991)
(1838-1914)
United States of America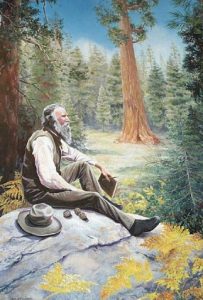 Pierre Teilhard de Chardin
April 10 (date he passed away)
He was a French Jesuit, a distinguished paleontologist and geologist, and especially well known as a religious writer. He was a fervent Christian mystic, a deeply caring pastor of souls, and a thinker who developed and projected forward the meaning of the Christian gospel in the light of modern science and evolution.
His masterful work, The Human Phenomenon, provides insights into the sacredness of the earth, the interrelatedness of all creatures and the important role of humans as co-creators.
"The future belongs to those who give the next generation reason for hope."
"Some day, after we have mastered the winds, the waves, the tides and gravity, we shall harness for God the energies of love. Then for the second time in the history of the world, we will have discovered fire."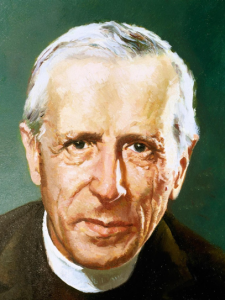 Amphilochios Makris of Patmos
April 16 (date he passed away)
"Did you know that God has given us a commandment more, not found in the Scriptures? It is the commandment to love trees. Whoever does not love trees, does not love Christ. When you plant a tree, you plant hope, you plant peace, you plant love and you receive God's blessing. "
He frequently assigned the penance of planting a tree on the island (Patmos) for those who came to him for confession. His ministry raised up a forest as well as demolished the sins of many. During the long summer drought, he himself went round the island watering the young trees. Where there was a bare and barren slope, there is now a thick and flourishing wood.

Écologie chrétienne orthodoxe, by Kallistos Ware